Biggest shit bank in Vietnam.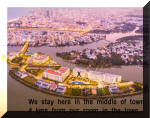 Martin moved to Champa Island resort on July 16th, 2021 and plan to stay at least a year.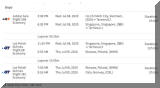 Martin's return ticket to Norway was cancelled.
Then he got a new one with departure Oct 26th.
This was cancelled too.


Martin got a ticket for
March 28th, 2021.
This one was cancelled too, on Feb 12th.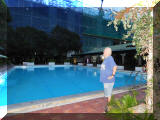 The pool at TrangVien Dong hotel is Martin's favorite place in Nha Trang, Vietnam. But not the best one.

In February, Martin started in a gym in the mornings, Olympic, in addition to the swim in the afternoons.
After 2 months, it was too tough and Martin gave it up.
Martin has visited Vietnam before. This is the 5th visit since 2015 and lasted looong due to the Chinese Wuhan virus.
February 1 - 15, 2015, with Geir, from Hanoi to Saigon.
September 1 - 3, 2017, on the Mekong.
March 17 - May 17, 2019, Da Nang and Nha Trang.
August 11 - September 30, 2019, Nha Trang.
Nov 9 - February 4, 2020, Nha Trang, Tuy Hoa, Hanoi and Haiphong.

Martin's web-page for his stay at Westwood, Feb 4 - March 9, 2020.
Martin's trip to Vietnam, March 11 - March 28th , 2021. May not be definite, since the airline can cancel the flights. LOT Airlines from Poland. They did it twice.
The first one was cancelled 2 days after they said it was flying on July 8th.
As of March 11th 2020, at 1430 hours, Vietnam basically closed its borders for foreigners. And they will stay closed for at least a year.
From Sunday, Aug 16-22, we went travelling around the coast, a coastal trip.
From Wednesday Aug 26-Sep 1, we went to Phu Quoc island, an over commercialized place. Not worth a second trip.
From Thursday Sep 16-22, we went to Con Dao and Saigon for a trip and to get a new visa. Immigration was utterly useless, telling a shit story that leads to fines.

From Thursday Oct 1 - 4, we went to Dalat for a trip.
From Friday Oct 16 - 19, we went to Quy Nhon and Tuy Hoa for an extended weekend.
From Thursday Nov 12 - 21, we went to Lang Son in Nothern Vietnam, close to the Chinese border.
New Years Party with Phuong.
From Friday, January 14th to 18th 2021, we visited Vung Tau.
From Friday January 28th to 31st, we took a short trip to Da Nang, 500 kms North of Nha Trang. To buy some South African biltong. South Africans with brains leave that miserable country. South African teacher makes biltong, His name is Marius.
From Thursday, February 11th to 20th, we made a round trip in the Mekong and visited Phuong's daughter at Bien Hoa. This trip was cancelled due to a outbreak of the Chinese Wuhan virus in Saigon. Per 2nd of April,

it has only been 2,603 cases in Vietnam and 35 dead from the Chinese Wuhan virus.

Instead, from Friday, February 10th to 20th, we made a trip to Phuong's daughter at Bien Hoa outside Saigon. Coastal trip.
From late at night on March the 24th to the 30th, Martin went to Dong Hoi in the North, some 800 kms from Nha Trang.

From April 14th to Apr 18th, it was a trip to Can Tho some 150 kms South-West of Saigon.
From May 7th to 8th, it was a trip some 100 kms North of Nha Trang to Whale Island.
June 13th to 17th, we took a trip to Mui Ne some 240 kms Sout of Nha Trang.
On June 19th, we had a 9 hours fishing trip in the bay. First time I did it and it was great fun.
On June 30th to July 3rd, Martin had a single trip to Paradise Resort Doc Let for 3 nights. Martin enjoyed it tremendously to be alone for a change.
On July 25th, Martin moved to Champa Island Resort, a lovely place in the middle of town, situated on an island.
If you don't chose a trip above, you will be forwarded to Campa Island Resort wen we moved in.