-
Nha Trang
First week of
Feb 2021
Coastal Trip
Feb 11
Nha Trang
Last week of
February
Nha Trang
First week of March.
Off to Dong Hoi
Mar 24
Mar 25 - Travelling to Dong Hoi.
Mar 25
Mar26
Sighseeing Dong Hoi& caves.
Mar27
Leaving Dong Hoi for Da Nang.

Mar 28
Visiting Hoi An.

Mar 29
Dry wurs, Da Nang
Mar 30
Back to Nha Trang


Any questions ?
Use email or
+47 901 83 492
+847 7753 6063Mar 27, leaving Dong Hoi for Da Nang.
We left 1949 and arrived in Da Nang the next morning, January 28th at 06:28.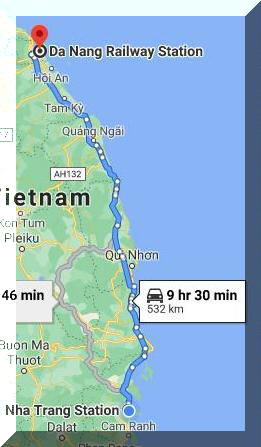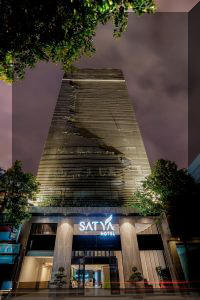 It took some 12,5 hours by train. Our hotel, Satya, Da Nang.
Da Nang railway station seen from the track side.

The front of the railway station.

Our hotel.

The room was very nice and cozy. It had a soothing feel to it that Martin liked.

View from our window.

We went to a nice fish restaurant. Enormous with only a handful of guests.

The beach was just outside, but none on the beach. Too cold.

The restaurant seen from the sea side.

Nice big fish did they have.

Party congress in town.

Harbor view.

Some massive buildings in downtown Da Nang.

One of the landmarks, The Dragon bridge.

Clearly see the dragon's head.

Building still being built, but no takers.

Martin's favorite museum in Da Nang.

Martin outside the entrance. It was closed when we arrived.

Marius' wife from South Africa with daughter and Phuong.

Martin and Marius. Nice business man at 45 years of age. His daughter was living with him as well.

Marius' family. His South African daughter can be seen in the background.

Martin enjoying a dry wors.

The Dragon bridge in the background.

Empty shells of housing that has no buyers. Stacks of them.

Another fancy stretch rod bridge in Da Nang.

Phuong is testing out the exercise equipment.

They had a nice little pool some 15 meters long. Just enough for one swimming person .
On Saturday. January 29th, it was our full day in Da Nang.