-
Nha Trang
First week of
Feb 2021
Coastal Trip
Feb 11
Nha Trang
Last week of
February
Nha Trang
First week of March.
Off to Dong Hoi
Mar 24
Mar 25 - Travelling to Dong Hoi.
Mar 25
Mar26
Sighseeing Dong Hoi& caves.
Mar27
Leaving Dong Hoi for Da Nang.

Mar 28
Visiting Hoi An.

Mar 29
Dry wurs, Da Nang
Mar 30
Back to Nha Trang


Any questions ?
Use email or
+47 901 83 492
+847 7753 6063Mar 27, leaving Dong Hoi for Da Nang.
March 24th, we left for Dong Hoi at 2350 in the evening, 50 minutes late.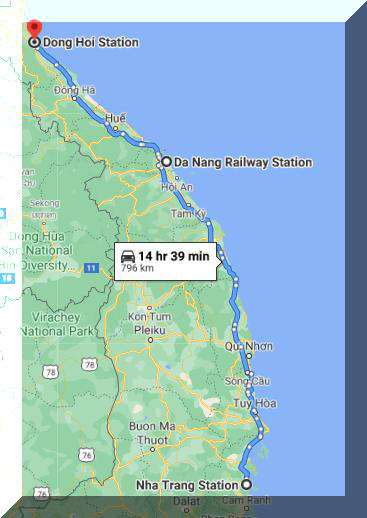 Click for bigger picture.
17 hours long from Nha Trang to Dong Hoi.
Phuong and Martin at Olivia having cold cut meat for dinner.

Lovely food. Martin enjoys the food in Vietnam. It is very nice.

Train delayed again, 49 minutes. Martin was sleepy.
On Thursday March 25th, we arrived after 18 hours the train. It was a lovely trip. We slept most of the way. Nice way to travel.