Any questions ?
Use email or
+47 901 83 492
+847 7753 6063
Martin went to Bangkok and to Vietnam on the 11th of November.
Below is a direct path, which does not exist. Martin travels via Bangkok.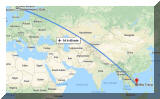 Click for bigger picture.
Martin has visited Vietnam before. This is the 5th visit

It had snowed over the night and some 15 centimeters came down.

MartinK's wheel tracks in the snow. He spent 20 minutes to shuffle the shit.

MartinK's car is snowed over.

MartinK picked up MartinT and took him to the railway station.

MartinT is ready to go.

MartinT is finished gearing up.

Arrived at the railway station at the airport.

Snowy landscape is passing by.

MartinT's backpack is special luggage. Nice so Martin T can bypass the check in queues.

Martin took his usual place at the restaurant and can overlook the planes.

Then he ordered a beer and nachos. Total NOK 269 or 665 269 ₫ in Vietnamese currency.

Here is the obscene bill. In Vietnam, a pint cost some NOK 12, or USD 1,40.

Leaving snowy Norway.
On Tuesday November 10th, Martin spent the day in Bangkok waiting for his flight to Vietnam on the 11th.Nov 10 - Bangkok for a day.Rangoon next?