May 8-11
Tuy Hoa - Saigon Hotel
May 15-17
Tuy Hoa - Saigon Hotel
May 28-30
Tuy Hoa - Saigon Hotel
Any questions ?
Use email or
+47 901 83 492
+847 7753 6063
After a nice trip to Saigon back to Nha trang.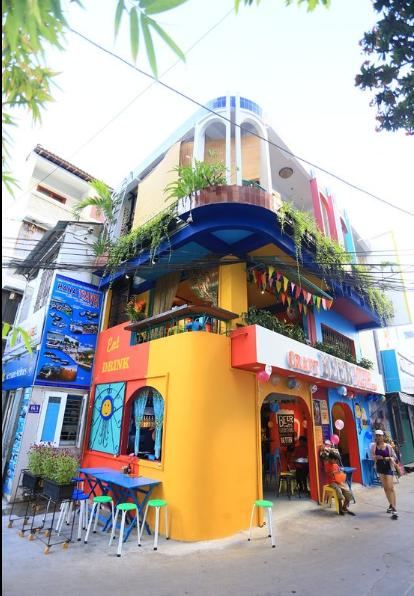 Jelly Brewpub - CraftBeer Nha Trang
46/4 Hung Vuong | Loc Tho, Nha Trang 650000, Vietnam +84 91 577 39 55
Martin at the local tax office in Nha Trang.

An impressive building.

Office 101 where Miss Mai had her office.

Martin outside.

Here you had to wear a face mask to speak to the officials.

This is the alley way to Martin's room.

Fancy Dane, Montana. He had some very good trip advice.

The last day of the month, Martin went to Mockba or Moscow restaurant in Nha Trang. Only 12 minutes walk from his rom.
Here is a typical way of building, tall thin ones.

Mockba was a restaurant recommended by a Dane by the name of Montana. He said it was cheap and very good. It was.

Amazing price for beer. USD 0,25 for 0,45 liters. Best price I ever got in a restaurant in Vietnam.

The main menu. The new owner is Khanh. The telephone is operational, but they have no Internet presence of any kind.

It is a very classy restaurant with very nice interiour.

Martin with his cap, menu and lovely cheap beers.

This yellow lady was dressed in yellow. She was an arrogant, condescending snotty b&**( that didn't care for her customers. Seen here working on her nails and fiddling with her stupid phone.

Miss NoName refused to have her back picture taken.

Martin has travelled for more than 20 years, but never met a more unfriendly, hostile waitress like this one, NoName. She refused to tell her name. When she looked at you, you felt she was thinking "What does you piece of foreign crap do in my country?". She is really welcoming.

The owner is Khanh. Miss NoName refused to say what "Kat" means. She answered "I have customers" which was a lie.

The hotel across the street.

The menu was very well laid out in English, Russian and Vietnamese. But a few pages only in Russian and Vietnamese. Some foreigners would like to try some Russian dishes. Should be in English as well.

Of course, backroom for VIPs.

The map how to find the restaurant. In spite of the horrible waitress, the food is very good and the prices low. Very good value for money. Recommended.
On Saturday Friday 1st, it was the beginning on a new month, August.