We sail downstream the Mekong during breakfast time and stop at the Island of Koh Oknha Tey. This spot in the middle of the Mekong owns its fame for the manufacturing of high class silk products.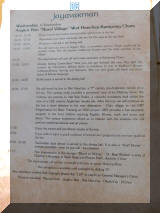 The program for the day.
Lai got her dinner in the room due to a throat infection.

We took the feeder boats to the shore where these people helped secure the boat.

The shore where we landed to go to Wat Hancay. See the program above.

The banks were steep.

The river view.

Some greenery.

Cabins for rent. Tourist industry is still in its infancy in Cambodia.

Boats loaded with husk, waste from rice production used for heating.

One fancy temple.

And there are lots of them.

Bridge over the Mekong outside Pnom Phen.

Same bridge.

Corridor between the cabins.

New buildings downtown.

Lai and Martin with one of the locals.

Nice guy.

Love big trees.

Off to the themple.

Omnipresent Buddhas.

The temple itself.

Mural.

Playing kids.

The temple is a kind of playground for kids.

Martin and one of younger generation on the temple ground.

Up to the temple.

An entrance.

Stilted house.

Off on the highway.

Riverside.

To a children's school supported by the company that operates the cruise line. The Heritage line.

Children performed very well. See video.

Children always like to perform and they are no exception.

Lai taking a rest.

Lai with a local family.

Lai at the school building.

Lai on her way back to the bus.

New buildings.

On stilts.

Lai with another Buddha.

Local transport is very practical and effecient.

A religious flag an a tall pole.

Local Buddha temple as if we never seen one before? And there are more to come.

Lai having a rest.

Martin with one of the statues.

Lotus shaped temple.

Lot of stairs to walk down. Martin did not.

An overview of the the compound.

Martin at the edge.

Angorian templte from the 12th century.

The temple in the distance.

Martin with one of the many Buddhas in the area.

Things are getting fixed all over the place.

Lai playing around with the big pumpkins.

Here is a water melon.

Temple entrance.

Local transport.

On the road.

More stilted housed.

Stilted house.

Back to our ship.

Evening dinner in the scarf image.

Martin and another traveller.

Lai and her food.

Martin and her table made.

Lovely dinner.

Ending the evening with a nice session on the computer. The Internet worked very well on the ship.