Oct 25
Arrived in Vientiane, Laos
Oct 26-30
Vientiane, Moonlight
Nov 24
Back to Nha Trang, Vietnam
Any questions ?
Use email or
+47 901 83 492
+84 777 536 063
We stayed a week in Vang Vieng.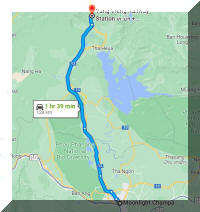 Our trip to Vang Vieng.
Oct 31 - off to Vang Vieng.

We were alone in a coach that takes 80 people.

June had plenty space.
Martins traveling beer.

Nice Meadows passing bye.

Nice view from the Bullet Train. Watch the video.

Martin enjoying his beer.

At our crummy hotel. Nice location. The rest was shit.

But the Lao Beer is great.

And it was plenty of it.

Nov 1 - Having my first swim.

But the pool was green. Hardly any chlorine in it and it was algae on the walls. Very digusting.

But the web pictures show something else.

A lot of activates on the river.

And the view is really breathtaking.
Nov 2 - A nice spot outside our room overlooking the river.

It is nice there, next to the shitty pool and lovely river.

Previous guests just left the empty bottles outside, but the staff took 3 days to remove them.

Street grills were very popular.

Nice beef strips at a local restaurant.

Martin having his special drink, soya sauce.

Nov 3 - A local restaurant with a nice breakfast.

The shitty, gory pool in all its goriness.
On Thursday November 4th, we were were very busy.