Daily activities November 2006
All the November Photos
Daily activities December 2006
More data?
Use email or
+47 901 83 492
| | |
| --- | --- |
| Martin T. (to the right) had pleasant and fascination trip to South Africa in the period above. Martin has his party hat on. | |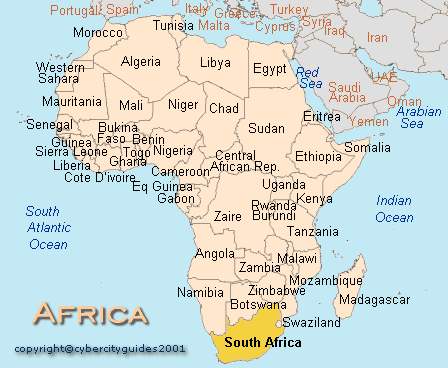 Above you have a map that shows South Africa on the African continent.
The pictures above and below are thumbnails, meaning they are small copies of the real thing. You just click on the thumbnails, and you get the full picture in a separate window. And depending on your browser, it may be a little smaller to fit your screen size.
Just click the enlargement button to see the full picture. It looks like this

.

Tuesday, Nov 21 - Departure from Norway and trip to London
To the left, my luggage at the bus stop at 0530 in the morning waiting for the bus.

To the right, a not so hot breakfast at the Oslo Airport, Gardemoen.

But when Martin gets his early morning beer and a piece of raw fish in the form of sushi, his happy.

Boarding the BA flight to London in misty, rainy and windy weather.

Time to depart at London's Heathrow airport.

And walking the long winding corridors of the airport. Even this one is rather straight ahead.

And at Heathrow, a fish meal is always lovely at the seafood bar.

A couple of goofing waiters having some fun and performing for the camera.

Some waiter took the whole thing far more serious.

But Martin was very happy with his meal.

That seafood platter that made Martin happy. Plus a couple of bottles of light white wine did the trick.

At Heathrow, they take no chances. The cutting knifes are actually wired to the counter

A grumpy pommy couple not enjoying themselves it looks like.

But Martin having Guinness for desert makes him smile.

This friendly face belongs to a smiley French businessman. Also having seafood platter.

And of course, Martin needed another Guinness of beer. The cupbearer busy with Martin's second beer.

BA managed to loose Martin's coolerbag with the computer and gun. As a compensation he got to fly Business Class, where all the drinks were free. So Martin had a few before falling asleep.


Next morning, Wednesday 22nd, Martin arrived in South Africa. With no gun for the time being.