Daily activities January, 2007
Daily activities February, 2007
More data?
Use email or
+47 901 83 492




Eli to the left and Martin T. had pleasant and fascination trip to Mexico in the period above. Martin has his party hat on. Have a look at some good economical tips dealing with greedy travel agencies it you want to take a trip abroad.

Cancun is a holiday resort with nice, warm weather during the European winter. For detail, have a look on the Cancun weather.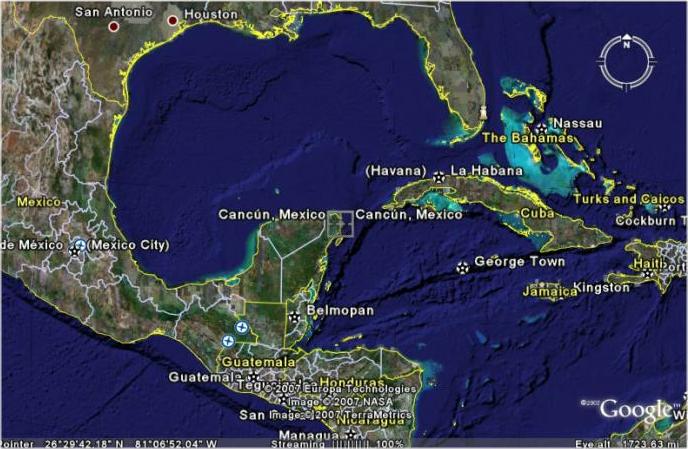 Above you have a map that shows Mexico in relation to Cuba and the USA.
The pictures above and below are thumbnails, meaning they are small copies of the real thing. You just click on the thumbnails, and you get the full picture in a separate window. And depending on your browser, it may be a little smaller to fit your screen size.
Just click the enlargement button to see the full picture. It looks like this

.
To the left, the beach layout in Cancun.

To the right, a satellite map of Cancun.

Cancun is a young city as most of its permanent and temporary inhabitants; it used to be a small sand barrier some thirty years ago, when it began to be planned and developed to become the vacation haven of the 21st century. Today, Cancun is a medium-sized coastal city and a thin, long island connected to mainland through two bridges on both ends, north and south, featuring world class resorts and hotels, clubs and malls. More ...

We stayed an hours drive South of Cancun where the airport is. Place called Playa del Carmen, a picturesque tourist place built in the 90-ties. They build in such a way that it looks old with pedestrian malls all over the show, making a lovely place to stroll in the evening.

To the right, the hotel where we stayed at. With pool (joke).
Hacienda del Caribe.
Monday, Jan 29 - Departure from Norway
To the left, up in the wee hours of the morning, Martin is waiting for his train at 0450.

To the right, Eli is arriving bright and breeze to Oslo Airport, Gardemoen some 200 kms North of Martin's place. Eli's place is some 100 kms North of Gardemoen.

Of course, the plane was delayed from Stockholm, from were the plane originated.

But at last, we boarded the plane some 90 minutes late.

Eli's smiling and sparkling companion to her right, Mr Swede.

Since this was last minutes tickets, the prices fell till the plane was full as can be seen on this picture to the right.
Next morning, Tuesday January 30th, Eli and Martin arrived in Mexico. They stayed at Puerto del Carmen, a small resort outside Cancun.