Daily activities
March 2010
April 2010
More data?
Use email or
+47 901 83 492
Steinar Medbøe to the left and Martin's room mate on this trip. A friendly and jolly chap from the Oslo, the capital of Norway.

Martin T. (to the right) had pleasant and fascination trip to the USA during the period above. Mainly dancing swing and rock'n roll. This trip was the second one Martin has taken under the auspices of ComeAndDance.
The first trip was during November 2008.

Complete tour guide in Norwegian.
This is the route in the USA and the dates at the various places.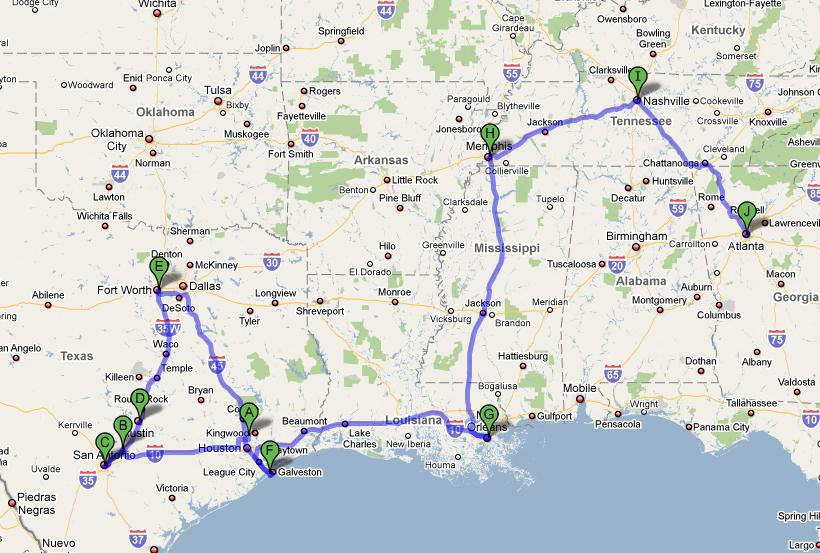 Cruise details. Below is the Carnival Conquest and the itinerary for the cruise.
March:

Sunday 28th we are boarding at Galveston, TX at 1600.
Monday 29th, we are having fun at sea.
Tuesday 30th, we are having fun at sea.
Wednesday 31st, Montego Bay, Jamaica at 0900 hours.

April:

Thursday 1st, Grand Cayman Islands at 0700 hours.
Friday 2nd, Cozumel, Mexico at 1000 hours.
Saturday 3rd, we are having fun at sea.
Sunday 4th, we are returning to Galveston, TX at 0800.

DEPARTURE
Arrived at Oslo Airport, Gardemoen by train at 0030 hours. Scheduled departure time was 0625 and we actual took off at ??? hours. Arrival time at Amsterdam is 0830 hours local time. Then 10 hours to Houston, Texas where we were due at 1210 local time.
To the left, Martin is ready for his trip to the USA.

Martin's train arrives on time at 2200 hours at night.

The cold, bleak waiting room of the local railway station at Tønsberg. Not nice.

Arrived at Gardemoen, Oslo, the toilets are great. Martin had a piss before going to sleep on one of the benches.

Not many customer at 0100 in the morning.

Martin got himself some hot junk foot before dozing off on one of the benches.

Time to drop off the luggage after doing the checking in online over the net.

The KLM plane taking us to Antwerpen in the wee hours of the morning of the 22nd.
Later this day, Monday 22nd, at 1520 we were landed in Houston, TX and checked in at Crowne Plaza River Oaks Hotel at 2712 Southwest Freeway, Houston, TX 7709, tel. +1 713 523 8448.