Daily activities Feb 2010
March 2010
More data?
Use email or
+47 901 83 492 or
+9195 61572507
Martin T. to the right had pleasant and fascination trip to Goa, visiting his sponsored children, Rupa and Ruthu (R&R) in the period above. Unfortunately, only for a week this time. R&R are at the left below. This time he went to give a PC to his oldest sponsored kid, Rupa.
| | | |
| --- | --- | --- |
| | Martin visits Goa on a regular basis. Here are the dates and URLs for his previous visits: | Martin with Rupa & Ruthu |
India has some 1100 mill people and have an area of 3,3 mill km2. Ten times the size of Norway. Goa on the other hand has 1,4 mill inhabitants and the area is 3000 km2. Goa is the richest of the Indian provinces.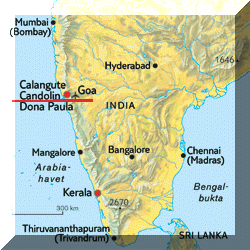 Above, you have a map that show where Goa is situated in India. The weather at Goa from BBC.
Compare this to the weather in Oslo, Norway.
Goa is situated on the West Coast of India. Goa used to be a Portuguese colony from 1510 till 1961 when the Indian Army invaded and annexed Goa. On the link you have the details of the military operations.

The former Portuguese colony of Goa is one of the most relaxed places in India. In the seventies when all of India was full with European and American hippies, Goa was really packed with them. Now most of the hippies have left, but new travelers keep pouring in. More textual stuff on Goa and you can have a look at this slideshow from the net.

The pictures below and on the following pages, are all thumbnails, meaning they are small copies of the real thing. You just click on the thumbnails, and you get the full picture in a separate window. Just click the picture to get the full size.
To the left a more detailed map of Goa with the main places and roads. This is taken from www.gogoa.com.

To the right, you have a detailed map of the province Goa. .

Departure with train from Norway

The bleak, dark, frosty line tracks at Tønsberg railway station.

The arriving train in the dark. It was 2015 hours and the train was 15 minutes late. Not unusual.

Arriving at the Oslo Airport, Gardemoen. Now it was time to sleep sitting up before the departure the next morning at 0515. The plane departed on time.
The following day, Wednesday February 23rdh, we arrived in Goa late. It is 4,5 hours time difference from Norway, so we lost these hours on the way there, but will reclaim them on the way back.